Simplify Workplace and Facilities Operations: Announcing Workflows
We're excited to announce Workflows, a time-saving feature now available as part of Trebellar's smart-building insights platform.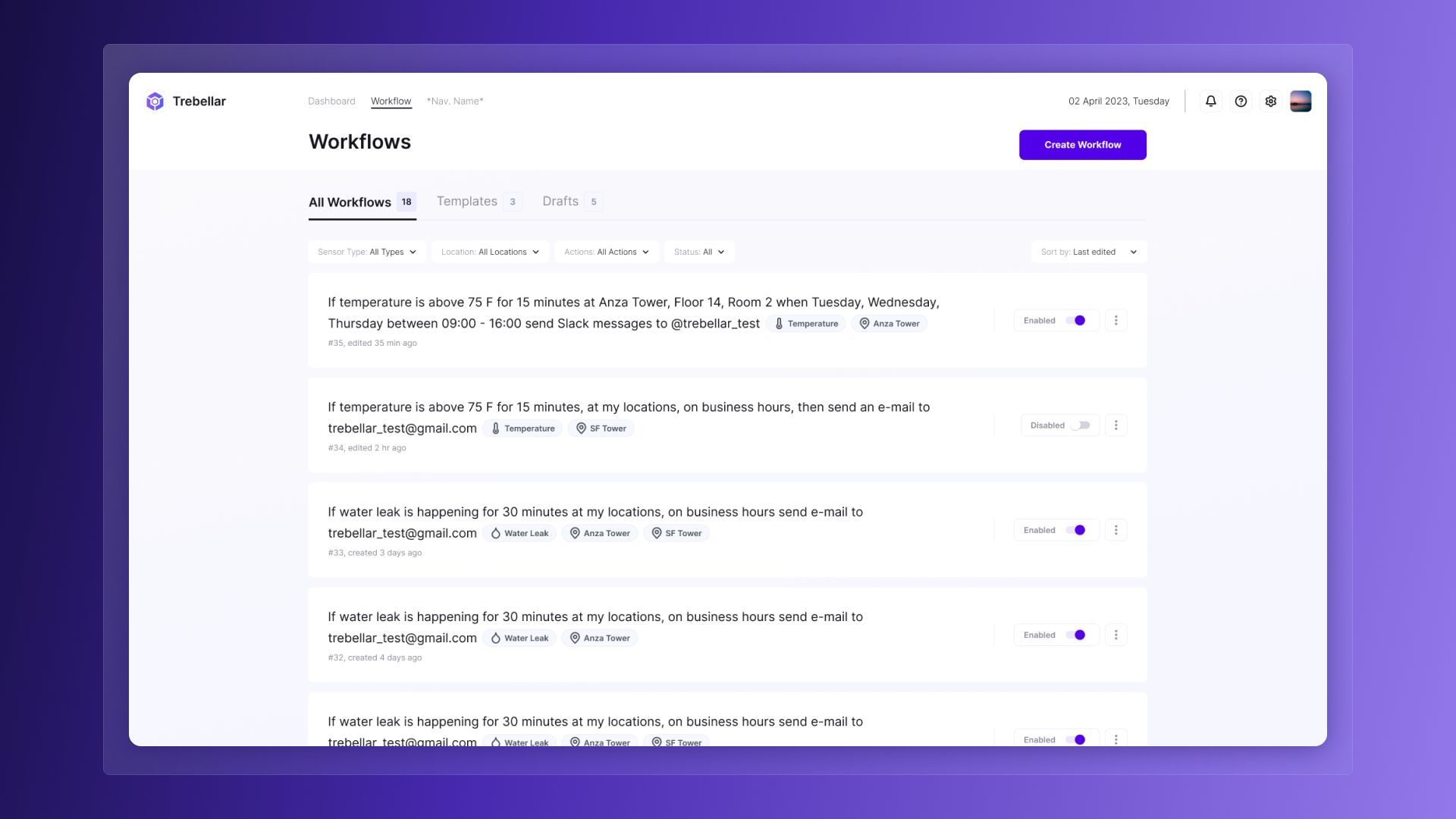 We're excited to announce Workflows, a time-saving feature now available as part of Trebellar's smart-building insights platform. With this new capability, workplace and facilities teams can:
Automate responses to high-priority issues that occur in their spaces
Deflect false-positive alerts from IoT workplace sensors and other data systems
Deliver proactive services and preventive maintenance with ease
Stop using multiple platforms just to review a particular alert or issue
Importantly, we've designed Workflows to be intuitive and easy to use – with no code required. With Trebellar's user interface, teams no longer have to rely on third parties or building automation engineers to get started with smart workplace automations. We've shortened the gap from idea to action, helping your team stay focused on maintaining safe and effective workplaces.
From day one, our goal has been to build software that unifies data from different systems and makes it easily actionable. We believe this intent is reflected in Workflows, which we developed to help teams boost their productivity, reduce noise, and save time. The net result is an ability to deliver world-class facilities services and an exceptional workplace experience with greater ease.
If you'd like to learn more, reach out for a demo – or keep reading to hear just one example of what's possible: a Trebellar workflow in action for one of our customers.
Situation
Water leak sensors had been installed during the initial build-out a few years ago. Unfortunately, the sensors lacked the intelligence to discern between mopping (innocuous) and a real water leak (a potentially catastrophic and costly event).
As a result, the FM team received dozens of false-positive water leak notifications every week. Because ignoring a water leak can result in hundreds of thousands of dollars in damage – and potentially higher insurance premiums – the team was left with no choice but to investigate every single notification.
Implication: the facilities team wasted precious time on wild goose chases that took them away from other productive work efforts. By one estimate, eliminating the problem would save them around $75,000 a year in wasted effort for one building.
Approach
Trebellar integrated with the water-leak provider in under a week. From there, the facilities operations team was able to set up a simple workflow intended to filter out false-positives and send automated messages and create issues to track resolution.
Outcome
Within one month, the team reported that false-positive water leak notifications were reduced by 80% – reducing operational noise and saving them 10 person-hours weekly. The team also has shared that having a single software platform to manage multiple systems enables them to be more productive. They no longer need to manage multiple logins and are less distracted by having to remember which system to reference.
What's Next
The FM and Workplace Technology teams are now working together to identify ways to better support the occupancy planning group. It's not uncommon for presence and occupancy sensors to go offline or run low on batteries. By proactively identifying these issues – and streamlining resolution – the occupancy planning team will benefit from consistent and reliable data to inform high-stakes decisions around space.